"Nothing Says I love you More, than a boy trying to be like his Dad."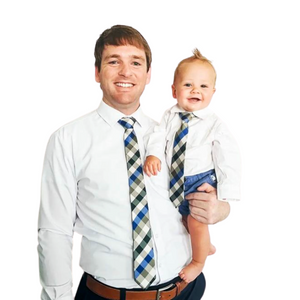 Have an upcoming event?
There is nothing your son wants to do more than dress up just like Daddy. For a special gift that both of them will love, you'll want matching ties from My Favorite Pal. Our ties are durable, look spectacular, and are made from 100% high-quality microfiber that's easy to clean. Our sizes go all the way from infant to extra-long ties, so even the tallest of fathers and the tiniest of sons can be perfectly matched. These matching ties are the perfect idea for special events — if you have an upcoming wedding, confirmation, baby blessing, or family photo, father son matching ties are the perfect choice for your family.
Where It All Started
We are so happy you made it to My Favorite Pal!
My Favorite Pal began in 2012 when a father wanted to have matching ties with his son! The problem was that there was no one and no where who had matching ties in different sizes. Soon after that, My Favorite Pal was born. Since it's inception, My Favorite Pal has become a one-stop-shop for matching ties in every size!
Not only are matching ties super fun but they also provide a great way for making memories during special events and occasions.
We hope you all enjoy our ties as much as we do and match for any and all occasions! Thank you for visiting!